R.P. Dalton Asphalt Paving, Inc. offers many additional paving services, such as asphalt sealing, sealcoating and driveway sealing. Typically, asphalt sealer in Waterbury, CT, can be applied to your pavement after the drying process is completed to help strengthen it against weathering and sunlight, among other detractors.
Sealcoating your pavement in Waterbury, CT, provides a layer a protection from water, oils and U.V. damage. It may also reduce friction or anti-skid properties associated with the unprotected elements within the asphalt. Since all pavement sealcoats were not created equal, we will work with you to provide the best option of sealcoat for your pavement.
Our Process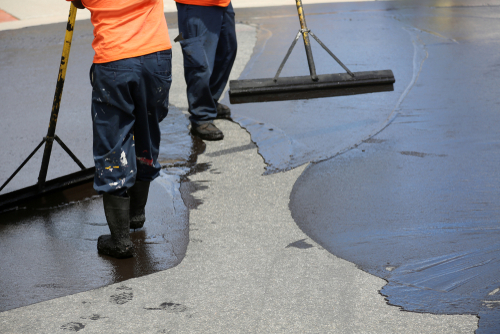 Prior to sealcoating, the asphalt must be completely clean and dry or the sealcoat will not properly adhere to the pavement. We will thoroughly clean and fix the area, getting rid of any cracks or spills. The area will then be sealed off to prevent disruption or improper application.
The process 24 to 48 hours before vehicles are allowed on the surface.
PARKING LOTS
Once the curing process is complete, we will repaint any lines that were made on the previous pavement before opening the area to the public.
Driveway Sealing
In New England and specifically, Waterbury, CT, sealing your driveway with a driveway sealer is a popular option following the application of a finished driveway. Our high-quality driveway sealers can block up to 99% of surface moisture!
Interested in Sealcoating your Pavement?
Call us at 203-753-3621 to learn more about the benefits of sealing your asphalt against time and the elements. We'll be glad to walk you through the process and provide estimates.